The holidays are a time to celebrate and reflect on the joy in our lives. Often, that turns to giving gifts and stressing over what gifts to give. To counter any potential excess or waste, think about giving consciously. Incorporating sustainability into the holidays can show how you've put extra thought behind your gift. When you're tackling your shopping list this winter, try keeping these following tips in mind:
For Someone Close to You: Set Expectations
To reduce confusion and waste, ask your recipient if there's something particular they want for Christmas. This can be a specific item or a category of items, such as winter clothing or books. If they're hesitant to share but are open to the idea of swapping gift ideas, consider exchanging a wish list with options at various price points.
For the Person Who Has Everything: Try Your Hand at DIY
For someone whose perpetual response is "I don't need anything," try your hand at a homemade gift from the kitchen. Creative gifts add a heartfelt touch and can be used to assemble a gourmet basket, or as a one-of-a-kind stocking stuffer. Beginners can try easy recipes for hot chocolate mix, tea blends, and spice mixes – including an everything but the bagel seasoning. For those knowledgeable in the kitchen, consider making a chili crisp, or a quick red sauce, preserved in a canning jar. To go the extra mile, try this incredibly-easy no-knead focaccia recipe. Think of ways you can elevate the gift, such as packaging it in a reusable mason jar or kraft paper, wrapped with a luxurious ribbon or twine, and twigs or pine branches.
For Your Family: An Act of Service
Experiences and services are a memorable way to show your affection while encouraging your recipient to take some me-time. A service gift could include a massage, dance or music lessons, or even a new car wash. Experience gifts can include a local cooking course, tickets to a comedy show, or a new membership to your city's museums and galleries. With options to suit all budgets, experiences and services are innately low-waste and sustainable.
For Your Colleagues: Share Edible Treats
Give a sweet treat to your work acquaintances and friends by sharing something local. The past few years have emphasized the need to shop local and shop small, so why not try sharing a taste of your favourite treats or a sample of your favourite neighbourhood in the city? Around the holidays, many local stores release baskets filled with handmade creations, such as chocolate baskets, gourmet bread, limited edition beers, and fine jams. To shop ahead of time, try heading to your local retailer's website or social media to see what they have to offer.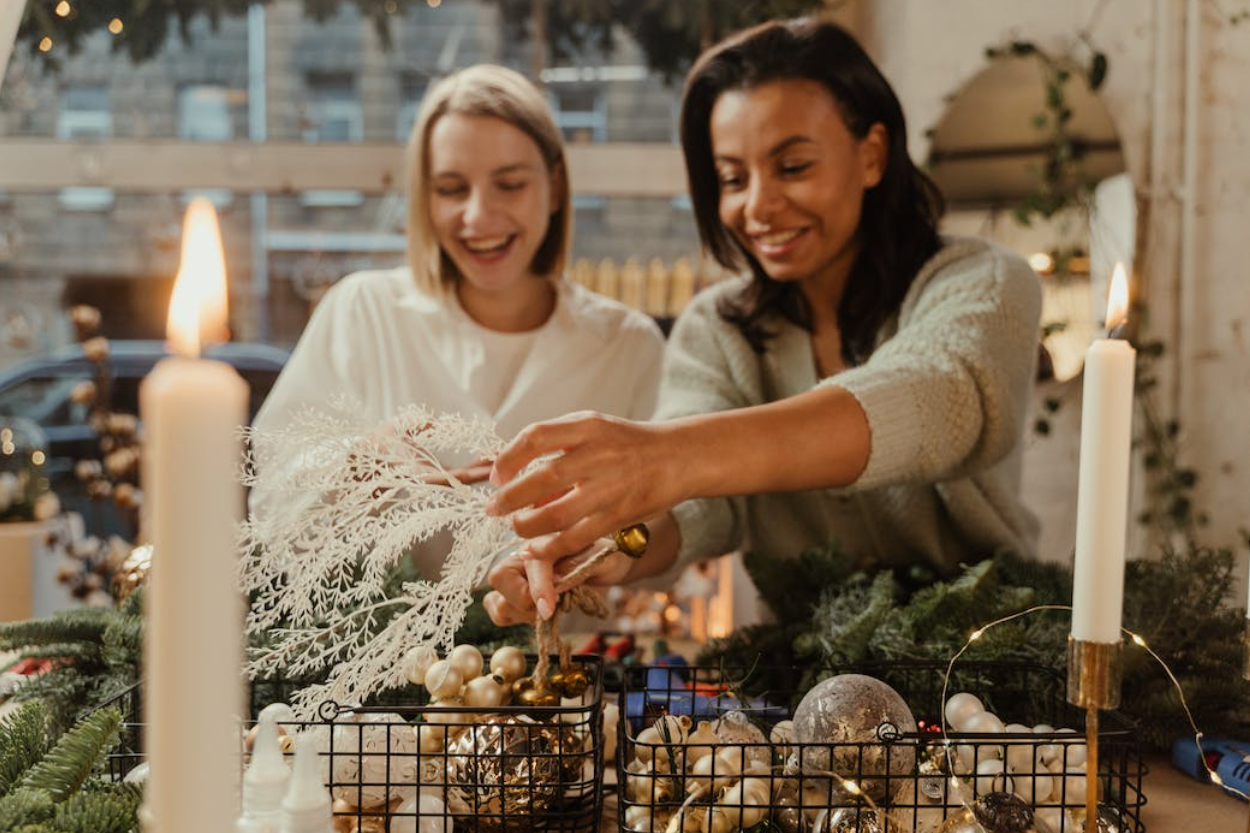 For Everyone: Slow Down and Connect with Others
It's easy to lose sight of what the holidays should be about – connection and appreciation. Between shopping for gifts and wrapping up year-end projects, remember to enjoy meaningful time with your friends and loved ones. Set aside time to write thoughtful holiday cards and showing your gratitude for those who make you happy. If you are able to, consider committing to some charitable acts during the holiday season or in the new year. Keep in mind that the holidays mean different things to different people and that kindness goes a long way.
Consider Everything
Sustainable gift giving isn't just about the item given, but the gift as a whole. Some questions to keep in mind can include:
Do they really need or want this gift?
What are the materials in this gift? Are they natural fibres and materials or made out of plastic?
Did the workers who made this gift receive a fair wage and ethical working conditions?
How long will this gift be useful for?
If it's an item of clothing, can I think of three different ways this article of clothing can be integrated into their wardrobe?
Can this wrapping be recycled or easily taken apart to be recycled?
Can I substitute a recyclable item for something recycled, such as paper tape?
Green gift giving can involve finding ways to lower the environmental impacts associated with shipping and delivery, packaging and waste, and even transporting the gift. As you're preparing to wrap your gift, think about the wrapping paper, gift bag, and any ribbons or bows. Ask yourself if it can be recycled or repurposed. Not every gift needs to be purchased, and a big budget doesn't necessarily equate to a better, more sustainable gift. Don't worry if you can't green all of these steps at once – start with one sustainable action and prioritize incorporating more for future gifts.